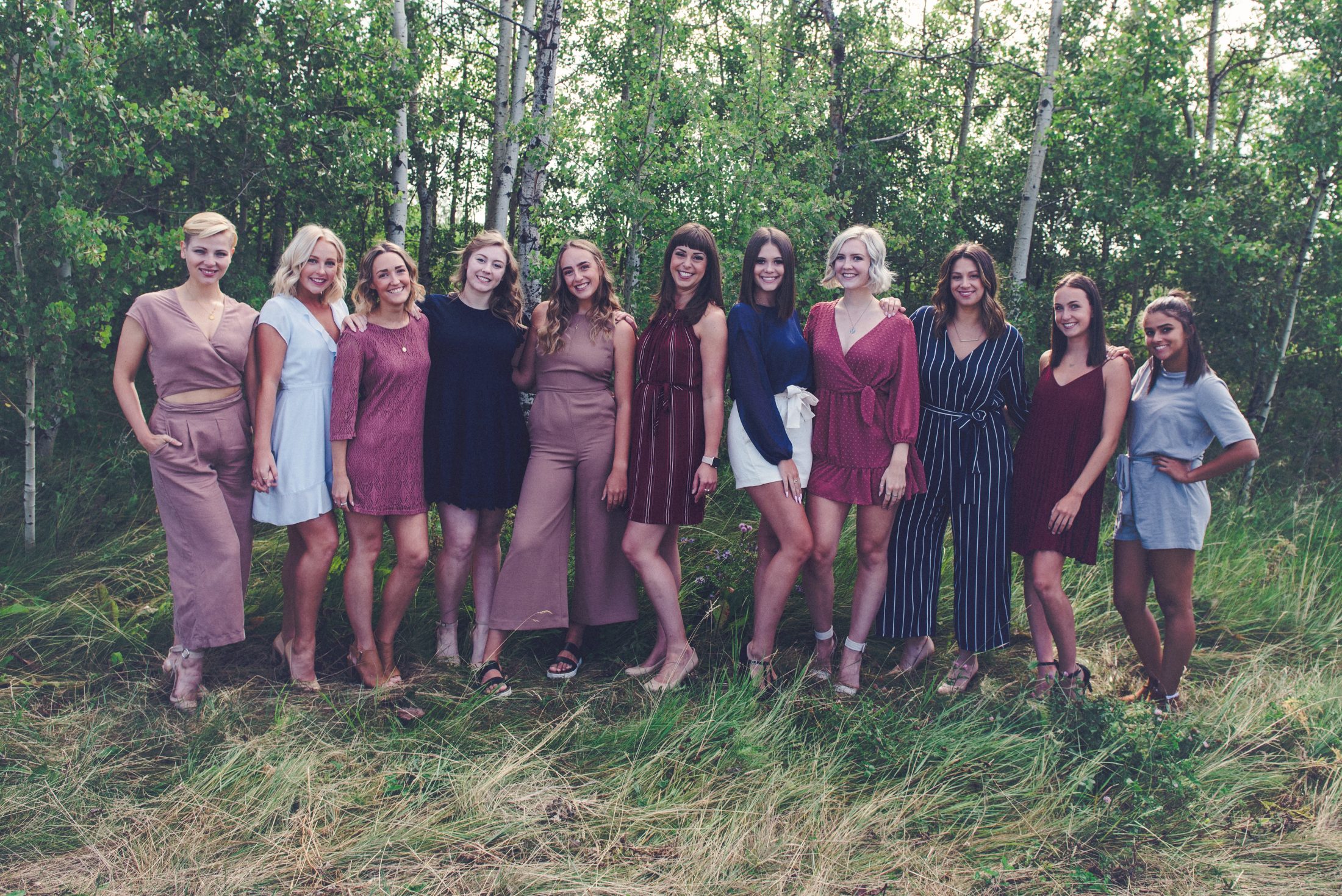 The artistic faculty at North Calgary Dance Centre come from many diverse, professional backgrounds.  The aim of our teachers is to provide a positive and caring atmosphere as a background for learning the discipline of dance.  Every student will feel welcome and will be encouraged to explore their own potential in the world of dance.  In addition to our teachers, many of our younger students' classes have Teaching Assistants who aid the teacher in demonstrating steps and technique as well as helping to provide useful feedback for the students.
Natalie is thrilled to be starting her eighth season as owner and director of North Calgary Dance Centre.   Natalie grew up dancing in Calgary, training at The Dance Factory, International School of Ballet and Ballet Arts Centre, in ballet, tap, jazz, lyrical and modern.  She completed her RAD Advanced 2 as a student, and went on to complete her BA in Dance Education through the Royal Academy of Dance in London, England.  Natalie has been working as a Registered RAD Teacher for 13 years, and has trained and entered hundreds of students into exams from Primary through Advanced 2.  Natalie is also a fully certified Acrobatics Arts Instructor as well as a certified ADAPT Jazz and Tap teacher.  She values continuing education, regularly attending teacher training event and workshops,and looks forward to sharing her passion and love of ballet and all styles of dance with her students every week.
Nicole Charlton-Goodbrand
Nicole was born in Maple Ridge, British Columbia and moved to Calgary, Alberta in 2003 to study dance at the University of Calgary.  She was awarded a Bachelor of Arts Degree in Dance (ballet) and also a Bachelor of Arts graduate diploma from The School of Alberta Ballet.  Since living in Calgary, Nicole has been a performer with La Caravan Dance Theatre, Corps Bara Dance Theatre, mixOLOGYdanceMine, W&M Physical Theatre's professional training division and with 02 Dance Company as a guest artist.  Nicole has had the opportunity to perform across Canada in the Guelph Contemporary Dance Festival, Calgary's International High Performance Rodeo, The Annual Alberta Dance Festival, Springboard's Fluid Festival, Alberta Culture Days and at the Banff Centre for the Performing Arts.  Nicole is a recent graduate of the Royal Academy of Dances' Professional Dancers' Postgraduate Teaching Certificate program in Berlin, Germany, where she graduated with distinction and is recognized as a fully certified RAD teacher. Nicole brings an incredible amount of knowledge and passion into all of her classes and is so proud to be teaching at North Calgary Dance Centre again this season.
​
Michelle is an accomplished performer, teacher and choreographer who brings to her work a passion to express and share the art of dance.  She is originally from Northern Ontario where she grew up studying various forms of dance.  She began teaching at an early age and eventually became the assistant director of her hometown studio.  Under the mentorship of Ida Sauve, she gained experience teaching all age groups and was challenged to create choreography for several different levels.  Always eager to expand her creative horizons, Michelle spends her summers traveling to attend workshops and continue her education as a dance instructor/choreographer.  She is certified through Dance Masters of America in Tap, Jazz, Ballet and Acrobatics and is also a member of the Canadian Dance Teacher's Association.  After taking part in several local arts projects and co-directing a studio of her own for 2 years, she made the move west to Calgary where she is enjoying everything the arts community has to offer.  She has been a performing member of The O2 Dance Company since the Fall of 2011, participates in and teaches many dance classes in the Calgary community and is an incredibly talented and sought after choreographer and adjudicator.  Michelle is part of the Acrobatique faculty and works regularly as an examiner and in teacher training courses with the organization.  Michelle is excited to be teaching her eighth season NCDC and feels privileged to be a part of such a positive and progressive team! 
Alex is excited to return to NCDC for her seventh season with us.  Alex has been an integral part of the teaching staff here at the studio since we opened, and now having completed her Athletic Therapy Degree from MRU, Alex is excited to be taking on a larger role both in the classroom and with our students promoting injury prevention and are practice.  Alex has had many wonderful opportunities that have brought her where she is today; aside from performing the "Greatest Outdoor Show on Earth", the Grandstand Show at the Calgary Stampede, she has also performed at the World Skills show, the Labour Classic Halftime show for the Calgary Stampeders and The Gemini Awards. She has worked with many talented and inspiring artists who have helped her succeed including Angela Benson, Mark Erikson and Hocine Layada. Alex trains her students with incredible passion, love and discipline that allows the dancers to truly rise to their full potential and is an incredibly talented and successful teacher and choreographer.  Alex is beyond excited to share her love and passion of dance with all the students at NCDC again this year and her energy brings life and excitement to every class she teaches.
Taylor is an accomplished performer, teacher and choreographer. Growing up dancing in Calgary, she trained and competed in various styles of dance, and completed her RAD Advanced 1 ballet exam. In 2016, Taylor graduated from the University of Calgary with a Bachelor of Arts degree in Dance, with a concentration in choreography and performance.  Dancing under professors Melanie Kloetzel, Wojciech Mochniej, Melissa Monteros, Davida Monk, and Sasha Ivanochko, Taylor has developed a strong base in Contemporary. She has been actively involved in performances through the university, including Dance Montage, Mainstage, Dance @ Noon and Taking Flight. These opportunities have allowed her to work with established choreographers and emerging artists. Her teaching career has brought her to Toronto during the summer as she worked toward becoming a certified ADAPT teacher in 2015.   Taylor has been an integral part of the studio's everyday operations since we opened in 2012, she keeps everything organized throughout the season in her role as Studio Manager and sharing with her students her teaching expertise and talent for choreography.   She is thrilled to be returning to NCDC for her eighth season as our office manager and teacher for our 2019/2020 season!
Northwest Calgary Dance Centre Teachers