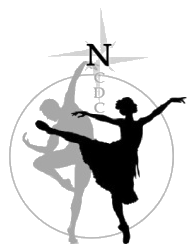 Tuition Payments: Tuition may be paid either upfront at the start of the season, or with 10 equal instalments. September and Registration fees are due at time of registration and are NON-REFUNDABLE, including the September portion for families paying full year. Monthly payments will be paid by EFT (Void Cheque) on the 1st of each month beginning in October. September, Registration and Full Year payments can be made by cash, cheque, debit, Visa or MC.

Our season is based on 32 weeks of class instruction, and any class cancellations that may occur throughout the season that remain within the 32 weeks of instruction will not be refunded or made up.  Please note that regular tuition fees do not include exams, competition, costumes or recital show tickets.
Registration: Registration is complete once NCDC has received your non-refundable first month's tuition and registration fee ($30/single, $40/family), and secured a VOID Cheque for Pre-Authorized Debit monthly payments.
Returned Payments: Any payments returned NSF will be charged an additional $30 per transaction.
Withdrawals: Program withdrawals will be accepted with 30 days written notice at any time before February of that season.  Withdrawals for medical reasons accompanied with a Doctor's note will be exempt from NCDC's 30-day policy, and are accepted at any time during the season.  Registration and first month's fees are non-refundable.
Costumes: Costumes will be ordered or made for all dancers participating in the year-end recital and competition events.  Costume fees will be due along with tuition payments on November 1st, or can be pre-paid before November;
-$75/costume for Preschool Dancers
-$80/costume for Pre-Primary Dancers
-$85/costume for Primary & Recreational Dancers
-$200/costume for Pre-Mini & Mini Dancers
-$400 deposit for Pre-Junior and older dancers for competitive costumes. An additional $200 deposit is required in February for dancers participating in 5+ competitive pieces.

*Competition choreography costumes will be billed in the Spring and can run up to $200/costume.  Final costume invoices will be available in May of that season, at which point all costs over and above the deposits will be due.
Competitive Program Registration: Students new to NCDC who wish to train in our competitive program (Pre-Mini and higher) will be auditioned and placed at the teacher's discretion.  Participation in the program requires students to follow our competitive training schedule and enrol in all classes available to them.  Students invited to train in our Pre-Junior and older competitive program must also participate in the core competitive groups to take part in our training program.  Competitive students must maintain 90% attendance in their regular classes, and 100% attendance in their competitive rehearsals.
Please visit our Competitive Class Info Page for NEW information regarding competitive and recital participation.
Registration into our dance programs signifies that you have read and accepted the policies outlined above.
North Calgary Dance Centre Policies